Doctors Without Borders runs a mental health clinic as part of its 100-bed hospital in Dagahaley camp, one of three that make up the Dadaab refugee complex. The clinic provides medical treatment for patients with various mental illnesses, including depression, schizophrenia, personality and anxiety disorders. A fatal mix of pent-up despair, anxiety and fear, combined with new uncertainties brought about by the Covid-19 pandemic, is forcing refugees to take extreme measures. MSF is reportedly witnessing a dramatic deterioration in the mental health of camp residents. The number of attempted suicides is rising, and psychosocial consultations have jumped by more than 50% from 2019. In the last two months, five people have reportedly attempted suicide in the camp, two with fatal results, according to Doctors Without Borders.
Kenya:
Desperation Builds In Dadaab, As Promises Of Durable Solutions Falter In The Face Of Covid-19


MSF, 10 October 2020

A mental health crisis is growing in the Dadaab refugee complex, where hundreds of thousands of Somalis have been stuck for decades now. A fatal mix of pent-up despair, anxiety and… Read more »

Africa:
Covid-19 Halting Crucial Mental Health Services in Africa, WHO Survey


WHO, 8 October 2020

Critical funding gaps are halting and disrupting crucial mental health services in Africa, as demand for these services rise amid the COVID-19 pandemic, a new World Health… Read more »

Africa:
Coping With Mental Health Impact of Covid-19


WHO, 8 October 2020

Dan Bukenya felt beleaguered by anguish. He lost sleep most nights and was often testy. He tried to self-medicate to no avail. Only when he agreed to be treated at a hospital did… Read more »

Africa:
Global Challenge for Movement On Mental Health Kicks Off As Lack of Investment in Mental Health Leaves Millions Without Access to Services


WHO, 7 October 2020

Joint release by the World Health Organization, United for Global Mental Health and the World Federation for Mental Health Read more »

Africa:
World Leaders, Celebrities to Join WHO's Big Event for Mental Health On 10 October


WHO, 1 October 2020

On 10 October, World Mental Health Day, world leaders and internationally-recognized celebrities and mental health advocates will come together for the World Health Organization's… Read more »
Many people with mental health conditions in African nations are living shackled in chains or locked up in confined spaces, says Human Rights Watch. In a report issued on Tuesday, … Read more »

The Covid-19 pandemic has disrupted or halted critical mental health services in 93% of countries worldwide while the demand for mental health is increasing, according to a new WHO … Read more »

In August, almost half of the most commonly used medications to treat mental illness in South Africa were out of stock, and many have been in short supply since March. Now, experts … Read more »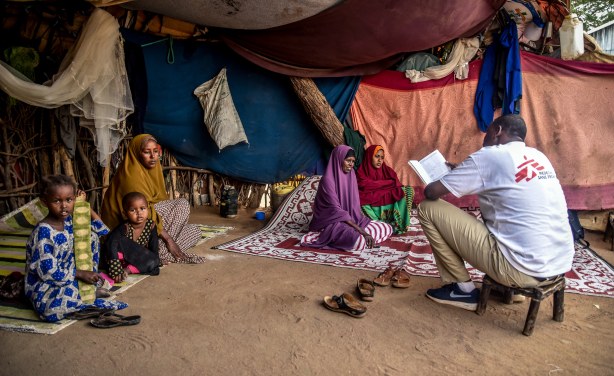 An MSF outreach staff holds a discussion with mothers in Dagahaley camp.