A new World Health Organization road map for neglected tropical diseases (NTDs) proposes ambitious targets and innovative approaches to tackle 20 diseases which affect more than a billion mainly poor people and which thrive in areas where access to quality health services, clean water and sanitation is scarce. The road map is designed to address critical gaps across multiple diseases by integrating and mainstreaming approaches and actions within national health systems, and across sectors. Targets include the eradication of dracunculiasis (guinea worm) and yaws, and a 90% reduction in the need for treatment for NTDs by 2030. NTDs cause pain and disability, creating lasting health, social and economic consequences for individuals and societies. They prevent children from going to school and adults from going to work, trapping communities in cycles of poverty and inequity.
Neglected tropical diseases (NTDs) affect more than a billion people worldwide and can cause severe and lifelong physical impairments. Those most affected include people living in … Read more »

Noncommunicable diseases now make up 7 of the world's top 10 causes of death, according to WHO's 2019 Global Health Estimates. This is an increase from 4 of the 10 leading causes … Read more »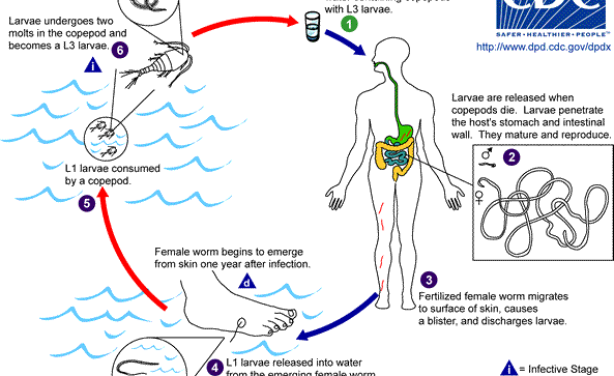 Diagram of the life cycle of Dracunculus medinensis (Guinea worm).