U.S. President Joe Biden's decision to lift the ban on travel to the U.S. by citizens of majority-Muslim countries, has already won praise in Africa. But governments aren't expecting miracles from the new administration, writes Cai Nebe for Deutsche Welle. On his first day in office, the president repealed the Trump administration's 2017 immigration restriction, known as the Muslim ban, on travel and visas for citizens of predominantly Muslim countries. The list would grow to include 13 nations. In Africa, this affected Somalia, Nigeria, Sudan, Eritrea, Egypt, Libya and Tanzania. "This ban, which restricted issuance of visas to individuals from many Muslim and African countries, was nothing less than a stain on our nation," Jake Sullivan, the incoming national security adviser, said of the ban in a call with reporters. As the U.S. tries to build its strategic capabilities and importance in global politics, Biden needs to have a coherent focus on Africa, with its youthful population and growing markets, said Sithembile Mbete, a political science lecturer at South Africa's University of Pretoria. "I think there is going to be a more sophisticated interaction between development assistance, development aid, diplomacy and foreign policy," she added.
President-elect Joe Biden has promised to raise the refugee quota, after the numbers plummeted under current President Donald Trump's administration. He raised hopes of … Read more »

A stream of African leaders has congratulated president-elect Joe Biden and vice president-elect Kamala Harris on their victory in the 2020 U.S. presidential … Read more »

Now that the U.S. election has been called for Joe Biden, with Kamala Harris as vice president, Africans are watching with a mixture of fascination, hopes and fears for what comes … Read more »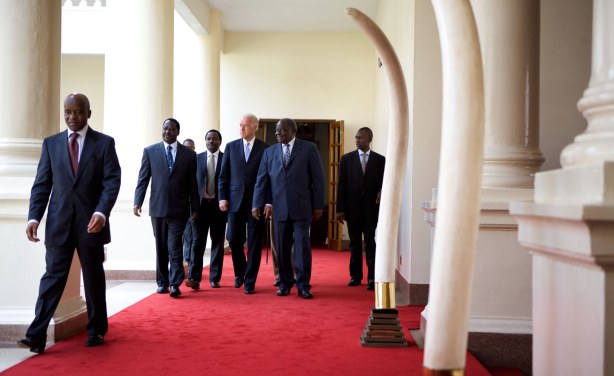 Kenyan president Mwai Kibaiki and prime minister Raila Odinga host then-U.S. vice president Joseph Biden in Nairobi, Kenya in advance of the 2010 constitutional referendum (file photo).