South Africa is to suspend its rollout of the Oxford-AstraZeneca vaccine after initial trials showed "disappointing" results against the new B.1.351 variant of Covid-19. The country has received 1 million doses of the jab from the Serum Institute of India and had planned to start using it to vaccinate frontline healthcare workers from mid-February. The study, involving around 2,000 people, found the vaccine offered "minimal protection" against mild and moderate cases of Covid-19. "We have decided to put a temporary hold on the rollout of the (AstraZeneca) vaccine. More work needs to be done," Health Minister Zweli Mkhize said at a press briefing on February 7, 2021. He said scientists would be studying whether or not the AstraZeneca vaccine was effective in preventing severe disease and death against the new variant. The government will instead offer vaccines produced by Johnson & Johnson and Pfizer in the coming weeks. Many African nations had been planning to use the AstraZeneca shot owing to its affordability and the fact that it can be kept in ordinary refrigerators, Deutsche Welle reports.
In addition to the shock announcement of the halted vaccine roll-out, TimesLive is quoting health department deputy director-general Anban Pillay as saying in a question session after the briefing that health authorities discovered that the vaccine delivered from India have an expiry date well before what had been planned for. He is quoted as saying that vaccines usually have a six-month shelf-life but the vaccines the country had received were marked as expiring in April 2021.
South African President Cyril Ramaphosa addressed the nation on February 1, 2021, announcing the easing of some novel coronavirus pandemic lockdown restrictions. Ramaphosa said … Read more »

The first shipment of one million doses of the Oxford University-AstraZeneca vaccine from the Serum Institute of India, will be received by President Cyril Ramaphosa and Deputy … Read more »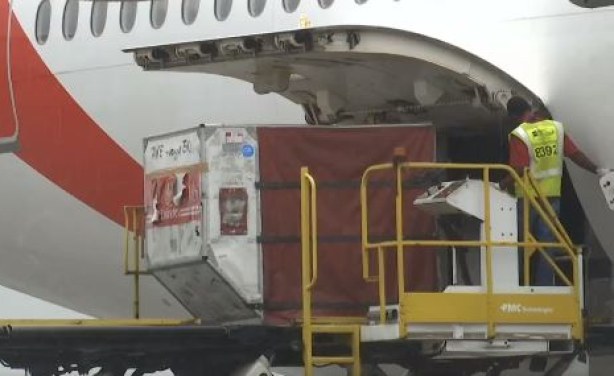 The first batch on Covid-19 vaccines is unloaded from a plane at OR Tambo International Airport in Johannesburg on February 1, 2021.