According to the submitted new climate plan to fight climate change through 2030, the total estimated cost for mitigation measures is estimated at around $5.7 billion, and over $5.3 billion for adaptation priorities. This is part of the Paris Agreement, that was signed in 2015, aiming to limit global warming to 2 degrees Celsius with an ambition to contain any increase at below 1.5 degrees.
New Times, 26 May 2020

Rwanda has become the first African country to submit a new national climate plan, whose implementation requires $11 billion (10.2 trillion), as an essential tool to implement the… Read more »

UNEP, 19 May 2020

With the world in waves of COVID-19, the issue of health has dominated public attention. Read more »

IPS, 29 April 2020

The oil slump, global recession and uncertainty about the magnitude of the COVID-19 pandemic will fuel the appetite for cheaper fossil fuel energy and delay investments in… Read more »

UNECA, 29 April 2020

In addition to the public health impacts of the Covid-19 pandemic, there has also been a big slowdown in the global economy, resulting in improved air quality and reduced… Read more »

UNECA, 28 April 2020

Lessons learned from the global response to the ongoing coronavirus pandemic give positive signals on how the world can deal with the devastating impacts of climate change. Read more »

UNEP, 27 April 2020

The United Nations is marking its 75th anniversary at a time of great upheaval, as COVID-19 continues to spread, exacting a heavy toll on lives, societies and economies in all… Read more »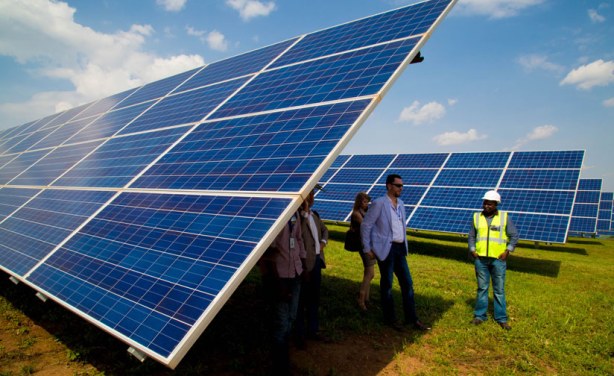 Solar panels installed in Rwamagana District (file photo).
Floods, drought, locust plagues, famine, whether in Kenya, South Africa, Uganda or Namibia, climate change in various forms Read more »

A scramble for scarce resources, such as land and water, exacerbates conflicts across Africa. Conflict and climate extremes cause food insecurity. When a deadly virus spreads, … Read more »

The change in climate and weather patterns is precipitating a rapid spread of the Sahara Desert, encroaching into lands and engulfing huge lakes, according to climate scientists. … Read more »

Levels of poverty, economic opportunities, and unemployment are key factors increasing the likelihood of conflict, and there has been strong agreement that climate change is a … Read more »