Young Nigerians are backing a petition on Change.org calling on the country's electoral commission to begin voter registration for the 2023 polls. William Minter of AfricaFocus writes that a combination of internal protest, an engaged Nigerian diaspora, and new strategies provide an indication that a new generation is ready to take the lead in pressing for change.
Nigeria:
#EndSARS Activists Turn Attention to 2023 Election


allAfrica, 23 October 2020

A leading civil society body organising around the ongoing protests against police brutality has called for supporters to stop sending donations to assist protesters. The Feminist… Read more »

Nigeria:
A New Generation Steps Up


AfricaFocus, 23 October 2020

"The protest is for our lives, it's for our future. We want SARS to end but SARS is just the beginning. They should just wait for us. We're not quiet anymore." [This response… Read more »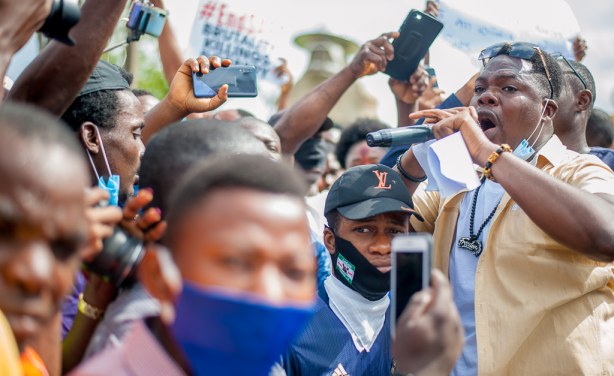 Protesters at an #EndSARS protest in Lagos.
In an address to the nation on Thursday evening, Nigerian President Muhammadu Buhari called for an end to mass protests against police brutality that have gripped the country – but … Read more »

The United Nations and European Union have joined a wave of condemnation of a harsh crackdown on anti-police brutality protesters in Nigeria. Witnesses said gunmen opened fire on a … Read more »

Influential Nigerians are expressing heartbreak and anger at the violence the country's security forces launched this week against peaceful protesters in Lagos – the commercial … Read more »