Following the resolution by some UK parliamentarians to call for sanctions against top Nigerian officials and security agents involved in alleged violations of #EndSARS protesters' rights, the Nigerian government has said that it has engaged the British government on the matter. The main opposition Peoples Democratic Party has applauded the bold move by the British lawmakers and has urged the UN and other international bodies to immediately list indicted officials of President Muhammadu Buhari's government, "for the widespread crimes against humanity going on in the country in the last five years". In October 2020, thousands took to the streets under the slogan #EndSARS to protest against the Special Anti-Robbery Squad, which they accuse of murder, torture, and extortion.
The Nigerian army has said allegations that soldiers has fired into a crowd of #EndSARS protesters at the Lekki tollgate, was "fake news". This follows several news reports showing … Read more »

CNN stands by its investigation, a spokesperson said in a statement reported by the network. Read more »

President Muhammadu Buhari has assured Nigerians that he will do whatever it takes to ensure that a repeat of #EndSARS protest does not occur in Nigeria. Buhari added that the … Read more »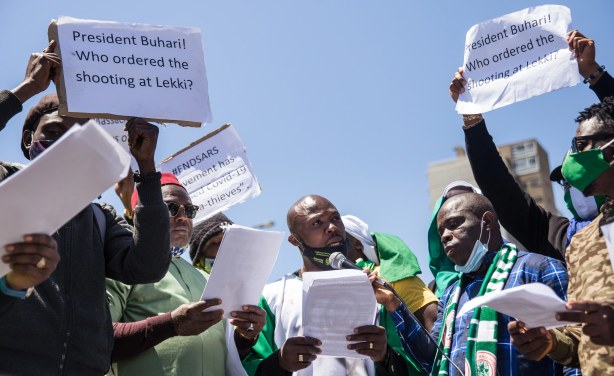 Cosmos Echie, President of the Nigerian Community Western Cape (NCWC) addresses Nigerian nationals outside Parliament on Friday as part of their #EndSARS campaign.