Morocco is set to resume relations with Israel – and the United States has granted a key concession on Western Sahara, Deutsche Welle reports. Moroccan King Mohammed VI announced that his country would "resume official contacts… and diplomatic relations with minimal delay" with Israel, while Israeli Prime Minister Benjamin Netanyahu hailed the agreement as "historic". Al Jazeera reports that as part of the agreement, US President Donald Trump has agreed to recognise Morocco's sovereignty over the Western Sahara, where a decades-old territorial dispute has pitted Morocco against the Algeria-backed Polisario Front, a breakaway movement that seeks to establish an independent state in the territory. The Polisario Front condemned the US decision, while a United Nations spokesman responded that its position on the region was "unchanged". The UN brokered a ceasefire in 1991 on the condition that an independence referendum be held in 1992. Morocco later blocked that vote and subsequent attempts to set up replacement polls. UN peacekeepers still monitor the fragile truce in the region.
Moroccan army bases have reportedly come under attack from the Sahrawi People's Liberation Army units in recent days. The latest being an attack on the 13th base of the 67th legion … Read more »

Since Morocco seized its phosphate-rich southern neighbour, the former Spanish colony of Western Sahara, in 1975, Sahrawi activists have resisted Moroccan rule. Sixteen years of … Read more »

Southern African countries which back the Sahrawi people's struggle for independence from Morocco held a solidarity conference in Pretoria this week, while Morocco held a rival … Read more »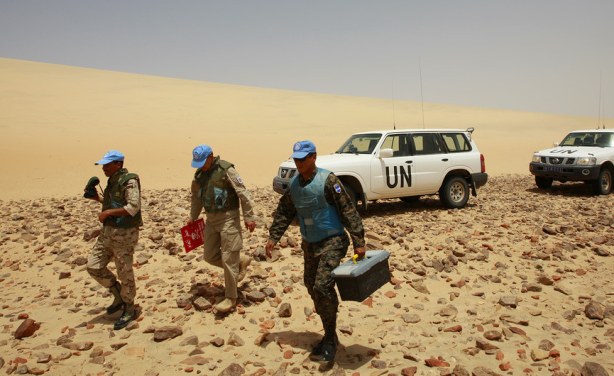 Peacekeepers have been stationed in Western Sahara since 1991 when the UN mission, MINURSO, was established (file photo).