Ilhan Omar, a  Somali-American  Democratic member of the U.S. House, has spearheaded a letter to the head of the U.S. Africa Command (Africom) calling for increased accountability of civilian causalities caused by American military operations in Somalia. The letter is co-signed by seven other Democratic representatives, all chairs of relevants House committees and subcommittees.
"Allegations of civilian casualties in Somalia have increased since the Trump administration gave AFRICOM commanders more flexibility to carry out offensive strikes against suspected militants in 2017," the Daily Beast says in a story disclosing the letter, which has now been released. Airwars, a London-based monitoring group, estimates as many as 284 'non-combattants' have been killed by U.S. operations since 2007. On April 27, Africom issued the first quarterly report "on the status of ongoing and completed civilian casualty allegations and assessments."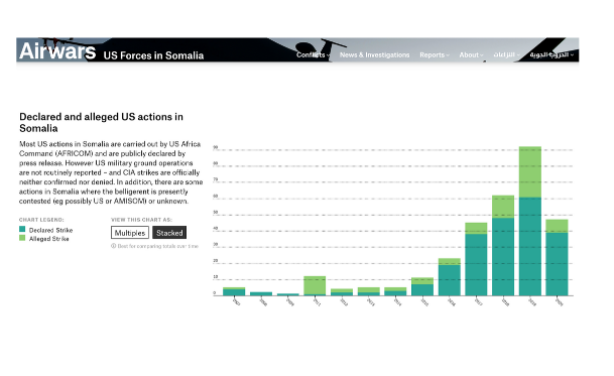 Airwars, an online investigative site, tracks U.S.counter terrorism actions in eastern Africa, and associated civilian harm claims.
In a rare acknowledgement of civilian casualties from the U.S. Africa Command's military operations in Somlia, the AFRICOM commander, U.S. General Stephen Townsend said in a report … Read more »