Fishing businesses in Turkana, Kenya, have many challenges – much of government support is not reaching these indigenous fishing communities, forcing them to sell their catches cheaply, if it does not go rotten due to poor storage facilities. Naremiet Beach Management Unit is registered as a co-operative in Kalokol, and is facing down broker exploitation, avoiding attacks due to being near a breeding site for crocodiles, and increased flooding because of the climate crisis. So how are they navigating these stormy waters?
Naremiet Beach Management Co-operative members in Turkana rely on catching fish to earn a living, and the co-op ensures that jobs are created in the Kenyan community. (This photo was taken before the …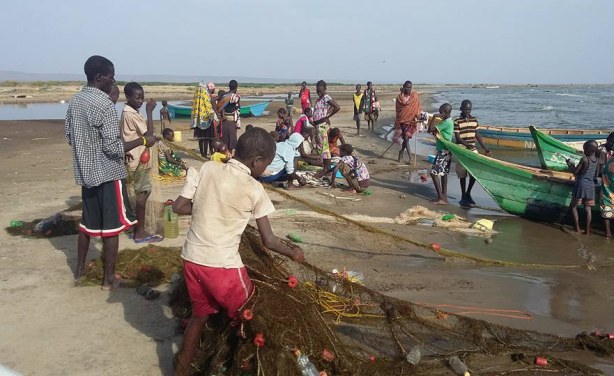 Members of Naremiet Beach Management Unit at work supplying people of Kalokol with fresh fish to buy.
.
Fishing trawlers, seaweed farming, and tourism on the coasts of Kenya and Tanzania are threatening the survival of seagrasses, warns the United Nations Environment Programme … Read more »

Pesticides that can cause cancer, mouth ulceration, dysphagia and abdominal pain, among other diseases, if ingested have reportedly been detected in fish imported from China. Over … Read more »

According to reports, the country has doubled its fish stocks since the launch of the Kenya Coast Services Guards six months ago. Read more »

All fishermen are prohibited from carrying out their activities in Ras Kamboni and any other areas past Kiunga Town, all of which lay close to the Kenya-Somalia border, according … Read more »

Plastic pollution in the oceans has reached a stage where microplastics – pieces smaller than 5mm – now outnumber stars in our galaxy, according to UN secretary general … Read more »