Government has set a minimum target of 67% of the population to receive the Covid-19 vaccine in an effort to achieve herd immunity, Health Minister Zweli Mkhize has said. Mkhize added that the rollout of the vaccine will be done in phases beginning with the most vulnerable in the population. Phase one includes frontline health care workers, with a target of 1,250,000 people. As of January 4, 2021, South Africa has confirmed 1,100,748 cases of Covid-19 of which 29,577 proved fatal and 903,679 resulted in recoveries.
A new variant of the Sars-CoV-2 virus, which causes Covid-19, has been detected in South Africa, scientists have announced. Health Minister Zweli Mkhize and members of the … Read more »

South Africa is again at Alert Level 3, with some adjustments, due to a surge in confirmed cases of Covid-19. "Our hospitals, both private and public, are already Read more »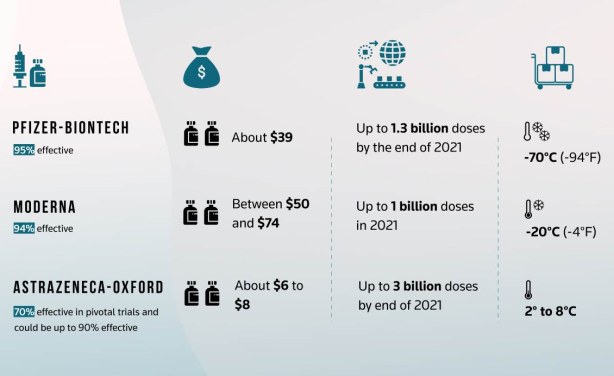 Infographic detailing the Pfizer, Moderna and AstraZeneca vaccines (file photo).