Businesses across the region are racing to pick up the pieces after six months of Covid-19 restrictions, setting the stage for economic recovery and a rise in employment. Restaurant and bar owners can breathe a sigh of relief after President Uhuru Kenyatta lifted a ban on the sale of alcoholic drinks, bringing life back to this sector. Tanzania has already re-opened all its businesses and Uganda is set to resume international flights from October 1. According to a survey conducted by the East African Business Council, EAC partner states are expected to lose more than U.S.$54 billion of local tourism spend for 2020. Hours after Uganda's announcement, RwandAir said it would resume operations at Entebbe International Airport on October 1.
Public health officials assisting in the burial of Covid-19 victims, will no longer be required to wear full white hazmat suits as has been the case in the last six months. Family … Read more »

Rwanda's bi-monthly mass physical sports exercise and car-free day were among activities which were suspended in March 2020, to contain the spread of the Covid-19 pandemic after … Read more »

At least 1.2 million learners are to return to school as President Yoweri Museveni's administration further relaxed Covid-19 restrictions. "We have decided to reopen schools for … Read more »

This is after the Kenya Civil Aviation Authority included Tanzania among states and territories whose travellers into the country will be exempt from quarantine. Earlier, … Read more »

Strict rules for the burial of Covid-19 victims will be relaxed to allow families accord their loved ones decent sendoff, the health ministry has announced. The ministry has … Read more »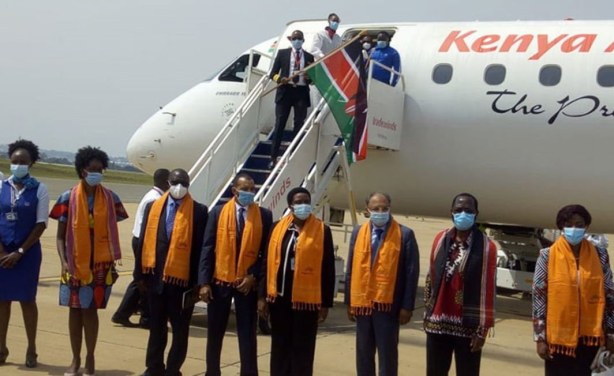 Kenya Airways maiden flight landed in Kisumu on July 15 on resumption of flights after Covid-19 break.