President Felix Tshisekedi has hosted a long-awaited meeting for regional heads of state on October 8, 2020, to address peace and security concerns as well as economic cooperation. Present at the virtual meeting were Rwanda President Paul Kagame, Uganda President Yoweri Museveni, Burundi President Evariste Ndayishimiye and Angola President Joao Lourenço. The DR Congo government says the leaders addressed the challenges of armed groups roaming the common borders of DRC, Rwanda, and Burundi, the revival of economic activities in the wake of the Covid-19 pandemic, and diplomatic and political relations.
Africa:
Great Lakes Countries Continue to Improve Cooperation – UN Special Envoy


UN News, 13 October 2020

Even as they confront the COVID-19 pandemic, countries in Africa's Great Lakes Region continue to improve political, security and economic cooperation in line with a 2013 Framework… Read more »

Uganda:
DRC, Uganda, Rwanda and Angola Leaders Meet to Discuss Peace, Security


East African, 7 October 2020

The Democratic Republic of Congo President Felix Tshisekedi on Wednesday hosted the long-awaited meeting for regional heads of state to address peace and security concerns as well… Read more »

Angola:
Angola's Credibility On Peace Goes Back to Agostinho Neto


ANGOP, 20 September 2020

Angola's permanent representative to the African Union, Francisco da Cruz, said that the country's credibility, in terms of Peace and Security and Conflict Resolution, was also the… Read more »

Angola:
Angola Praises Efforts for Stability in DRC


ANGOP, 16 January 2020

Angola on Tuesday in New York, USA, defended the efforts of the government of the Democratic Republic of Congo (DRC) towards reconciliation and stability in that African country,… Read more »

Africa:
Angola At Forefront for Africa's Stability


ANGOP, 4 December 2019

Angola, at the presidency of the African Union Peace and Security Council, is at forefront of the countries searching for political stability in Africa, said Tuesday the Foreign… Read more »
At a meeting between Ugandan President Yoweri Museveni and Rwandan President Paul Kagame hosted in Angola by President João Lourenço, it was resolved that … Read more »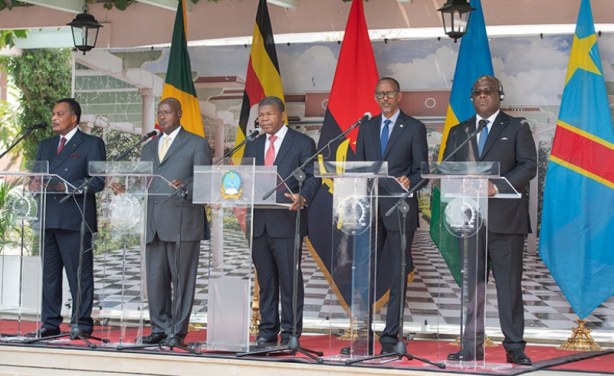 (file photo).