The country's ministry of health says travelers arriving and departing the Roberts International Airport will soon be made to pay U.S.$75 toward Covid-19 testing fees. This comes after an audit, conducted by Internal Audit Agency (IAA) under the supervision of its former Director General, Emmanuel B. Nyeswa before his sudden death, revealed that the expenditure of fund showed inconsistencies. Meanwhile. Vice President Jewel Howard-Taylor has returned to the country after her successful recovery from COVID 19. She was flown to Accra, Ghana on an emergency flight on August 11, 2020 when she suffered respiratory complications as a result of COVID 19. So far Liberia have recorded 1476 corona virus cases, 1279 recoveries and 82 deaths.
Liberia:
Govt Hits Travellers With $75 Covid-19 Test Fee


FrontPageAfrica, 30 October 2020

Travelers arriving and departing the Roberts International Airport will soon be made to cough out US$75 as fees toward testing for the deadly Covid-19, Ministry of Health officials… Read more »

Liberia:
Gov't Opens New COVID-19 Testing Site


New Dawn, 1 November 2020

The Liberian Government and its partners through the Incident Management System-COVID-19, will on Monday, November 1, 2020, at 10:00 A.M., open a new COVID-19 simple collection… Read more »

Liberia:
CALP Empowers Single Mothers


New Dawn, 1 November 2020

Care for Liberia Population or CALP, stresses a need to enhance vocational skills of single mothers in the country. Executive Director Samuel Jacobs says enhancing skills of single… Read more »

Liberia:
VP Taylor Recovers From Covid-19


Observer, 30 October 2020

— says her return will inject new dynamism and energy to the governance process Read more »

Liberia:
Liberia Gets Major Boost for Covid-19 Fight, Receives 15 Ambulances


NEWS, 28 October 2020

The Ministry of Health has received 15 ambulances donated by the World Bank to the Ministry of Health to equip the Ministry of Health with the needed logistics to respond to the… Read more »

Liberia:
Millions Vanish in Thin Air – Premilinary Audit of Covid-19 Fund Reveals


FrontPageAfrica, 27 October 2020

A preliminary audit report has uncovered that the Government of Liberia's COVID-19 budget as being expended by the National Public Health Institute of Liberia (NPHIL) and the… Read more »

Liberia:
MFDP Official Calls for Reflection, Identification of Covid-19 Impact On Govt Targets


LINA, 2 October 2020

The Deputy Minister for Budget at the Ministry of Finance and Development Planning (MFDP), Tanneh G. Brunson, has urged stakeholders to "reflect" and "clearly identify" the… Read more »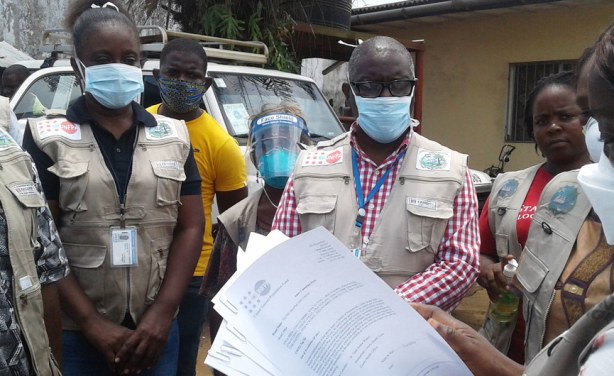 In Liberia, UNFPA is working together with the World Health Organization to co-lead the COVID-19 surveillance effort and the coordination of contact tracing.
President George Weah has ordered that striking health workers be replaced, after they declared a nationwide "stay at home action" from September 16, 2020. They are reportedly … Read more »