The COVAX vaccine-sharing facility has allocated at least 330 million doses of Covid-19 vaccines for poorer countries and aims to deliver these and millions more in the first half of 2021. The facility has published an interim distribution plan, which it says will cover an average of 3,3% of the total populations of 145 countries taking part in the initial round. The doses include the AstraZeneca-Oxford vaccine and the Pfizer-BioNTech vaccine. Reuters quotes World Health Organisation official Ann Lindstrand as telling a briefing that the first doses should be delivered "hopefully by the end of February, beginning of March". South Africa, Cape Verde and Rwanda would be among the first countries in Africa to get the Pfizer shot, she said. The published list has allocations of vaccines to 40 African countries in the WHO's African region, and seven African countries in WHO's Eastern Mediterranean region. COVAX is co-led by the GAVI alliance which secures vaccines for poor countries, WHO, the Coalition for Epidemic Preparedness Innovations and the United Nations Children's Fund.
While "vaccine nationalism" might serve short-term political goals, it could cost up to U.S.$9.2 trillion – much of the loss in wealthy countries, World Health Organization … Read more »

A year after the novel coronavirus first began to spread around the world, the World Health Organisation says that the Covid-19 pandemic remains a public health emergency of Read more »

Since the time when vaccines against Covid-19 were a hope, rather than a reality, the World Health Organization (WHO) has sounded the call for equitable access to vaccines to … Read more »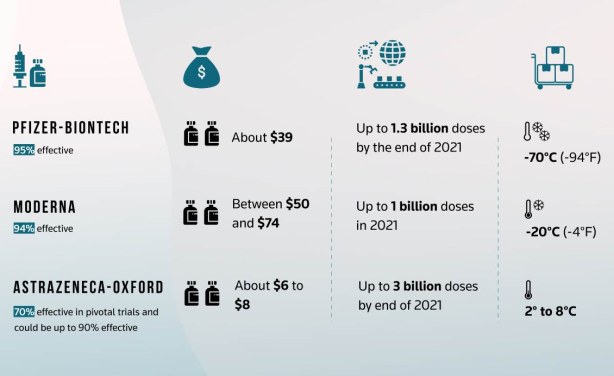 Pfizer, Moderna and AstraZeneca vaccines could be rolled out early next year.