The end of the tenth outbreak of Ebola in the Democratic Republic of Congo, which lasted 23 months, is officially over. National officials and international organizations are calling for humanitarian assistance to support affected communities. The strategies used by thousands of DRC health workers and international supporters to defeat Ebola are the same skills and policies needed to suppress the spread of COVID-19, said WHO Director-General Tedros Ghebreyesus. It was a team effort led by the government of DR Congo, Tedros said during a briefing with WHO Afro Director Matshidiso Moeti, virologist Professor Jean-Jacques Muyembe and Eteni Longondo, Congolese health minister.
Congo-Kinshasa:
Govt to Announce End of Ebola Outbreak in Eastern Region – WHO


Premium Times, 25 June 2020

The Democratic Republic of Congo is expected to announce the end of the Ebola outbreak in its eastern region on Thursday, the World Health Organisation has said. Read more »

Congo-Kinshasa:
UNICEF Welcomes End of 23 month-long Ebola Outbreak in Eastern DRC and Calls for Additional Support as Country Tackles New Outbreak in North-West


Unicef, 25 June 2020

UNICEF welcomed the announcement by the Government of the Democratic Republic of the Congo (DRC) today of the end of the 23-month long Ebola outbreak in the east of the country,… Read more »

Congo-Kinshasa:
How 'Ebola Business' Threatens Aid Operations in Congo


The New Humanitarian, 18 June 2020

Questionable practices in the Ebola response in the Democratic Republic of Congo, including payments to security forces, renting vehicles at inflated prices, and job kickback… Read more »

Congo-Kinshasa:
How Traditional Healers Became Allies in Ebola Response


WHO, 20 June 2020

At the entrance to the Centre de médecine tradi-moderne du village, a health centre offering conventional and herbal treatments, in Beni town, a painted mural shows a man… Read more »

Congo-Kinshasa:
Coping Mechanisms Put in Place For Ebola, Measles and COVID-19


The Conversation Africa, 22 June 2020

Ebola, a viral haemorrhagic fever of humans and other primates, has become endemic in the Democratic Republic of Congo (DRC). The country has had 10 outbreaks in 40 years and has… Read more »

Congo-Kinshasa:
How Local Testing Sped Up Response to New Ebola Outbreak


WHO, 23 June 2020

When a young man in his town died of a haemorrhagic fever, Fabien Impanda Boliko had to act fast. The 56-year-old laboratory technician in Mbandaka tested and identified the first… Read more »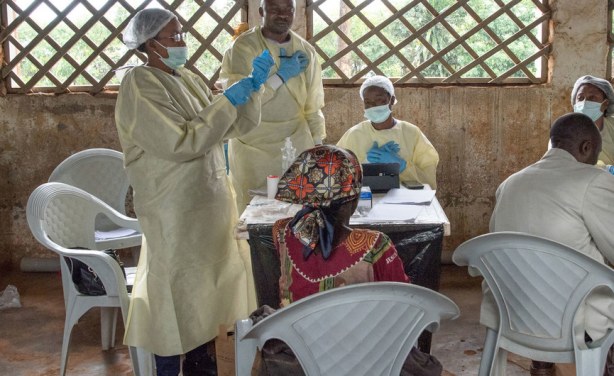 A World Health Organization Ebola vaccination team works in Butembo in the Democratic Republic of the Congo in January 2019.
Simultaneous outbreaks of Ebola on opposite sides of DR Congo, a drop in vaccination rates for killer diseases like polio, a resurgence of malaria and other preventable … Read more »

The Democratic Republic of Congo's deadliest ever Ebola outbreak appears to be drawing to a close, but aid groups have cautioned against scaling down response efforts too quickly, … Read more »

Five new cases of Ebola have been declared in Mbandaka in the north-west of the Democratic Republic of Congo, according to Health Minister Eteni Longondo, who said four people … Read more »