May 25 is an important day on the African calendar – even more so this year, under the unusual conditions faced under the novel coronavirus pandemic. Now more than ever, Africans need to take up the challenges shared with each other and the world and apply creativity and experience to help develop African solutions. To celebrate Africa Day, ViacomCBS Networks Africa and YouTube, in partnership with Idris Elba, are hosting an Africa Day Benefit Concert At Home to raise funds to help children and families in Africa that are affected by the pandemic.
Nigeria:
Davido, Burna Boy to Feature in Idris Elba's Africa Day Benefit Concert


Premium Times, 21 May 2020

Nigeria's A-list musicians, Davido and Burna Boy, are lining up alongside other African music stars to perform at an online concert to be hosted by Hollywood actor, Idris Elba. Read more »

Africa:
Continent Celebrates 57th Africa Day, 25 May


Govt of SA, 24 May 2020

On 25 May 2020, the African continent will mark the 57th anniversary of the establishment of the Organisation of African Unity (OAU). The day is marked annually as Africa Day. Read more »

Uganda:
Uganda Celebrates Africa Day With Hope Tomorrow


Monitor, 24 May 2020

May 25 is celebrated annually in Uganda and elsewhere on the African continent as Africa Day to commemorate the day on which the Organization of African Unity (OAU) was founded in… Read more »

Africa:
Elba to Host Star-Studded Africa Fundraiser Concert


East African, 24 May 2020

English actor Idris Elba will host an Africa Day benefit concert with the continent's biggest stars to raise Covid-19 funds for food and health assistance in Africa. Read more »

Africa:
Selmor Mtukudzi Shares Stage With Africa's Greats On Africa Day's COVID-19 Concert


New Zimbabwe, 22 May 2020

Award-winning Zimbabwean musician Selmor Mtukudzi's star continues to rise and shine as she has been nominated to share the stage with Africa's great musicians in a two-hour Africa… Read more »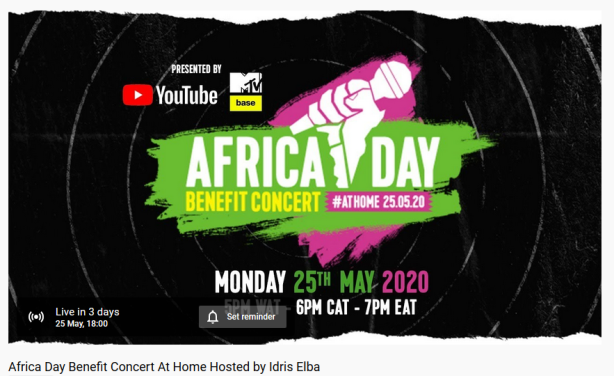 The YouTube page for the May 25, 2020 Africa Day Benefit Concert at Home.