Nigeria's former finance minister Ngozi Okonjo-Iweala, has been named the 2020 African of the Year, becoming the first woman to win this award. The award honours leaders who have contributed and shaped the African economy. Okonjo-Iweala was said to have expressed her delight at the recognition and dedicated the award to Africans facing the health and socio-economic challenges of Covid-19 during a very difficult year. Okonjo-Iweala is on the brink of yet another first, as a finalist to the top post as the seventh Director-General of the World Trade Organization (WTO), a position which will make her the first African and the first woman to lead the prestigious trade body. Okonjo-Iweala emerged the overwhelming choice of WTO member-countries, following a keenly contested race in which she received the majority support of the 164 member countries. The award comes as Interpol has warned of organised crime during the upcoming COVID-19 vaccination campaigns, including fake vaccines and the theft of supplies.
Africa:
Okonjo-Iweala Named Forbes Africa-CNBC African of the Year


This Day, 2 December 2020

Nigeria's former Finance Minister and leading candidate in the race for the World Trade Organisation (WTO) Director General, Dr. Ngozi Okonjo-Iweala has been announced as the… Read more »

Nigeria:
Okonjo-Iweala Named First Female African of the Year


Premium Times, 2 December 2020

The award seeks to honour leaders who have contributed and shaped the African economy. Read more »

Nigeria:
Okonjo-Iweala – How Global and Local Experience Would Play Out in WTO Top Job


The Conversation Africa, 26 November 2020

The global economy faces profound uncertainties, particularly in the face of the COVID-19 pandemic. In addition, faith in the efficacy of international bodies such as the World… Read more »

Nigeria:
Interpol Raises the Alarm Over Fake Covid-19 Vaccines in Nigeria, Others


This Day, 3 December 2020

The International Criminal Police Organisation (INTERPOL) has alerted Nigeria, South Africa, the United Kingdom, the United States, and 190 other countries of threat from organised… Read more »
At first, news of Ngozi Okonjo-Iweala's appointment as the World Trade Organisation's director-general after a hotly contested race was hailed as an African first. Now, the Premi Read more »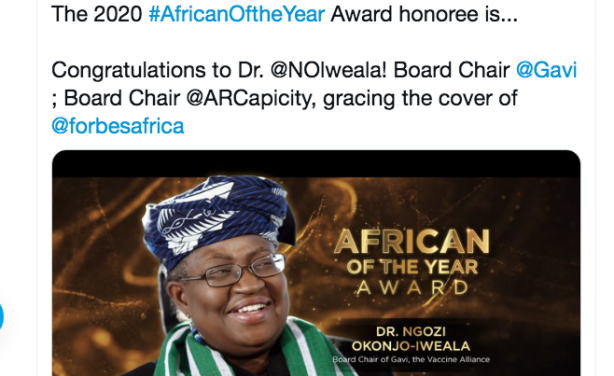 Okonjo-Iweala named Forbes Africa of The Year 2020.